As lead designer for Academic and Student Affairs, I conceptualized and created content for over 50 departments within the division. In my role, brand compliance and managing multiple projects to meet department needs was key to our success.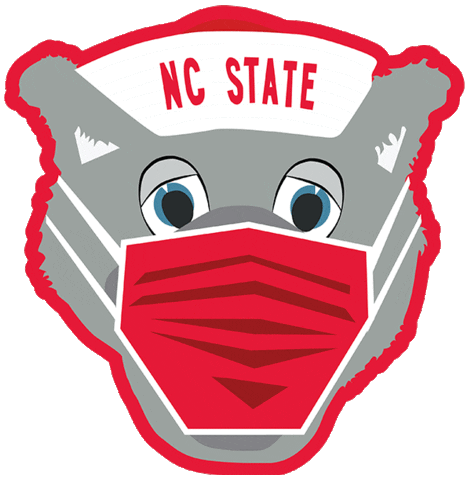 Campaigns:
COVID-19 Response: Mask the Pack Up
During an incredibly difficult time in the world, our institution found itself pivoting to accommodate safety and community on our campus. Essential workers championed campus providing health, housing, and facility maintenance to accommodate faculty, staff and students on campus. The Mask the Pack up campaign was created to usher in the community expectation of face coverings at all times on campus to slow the spread of Covid-19. A lighthearted nature was important when the rest of the world was darkened with immense struggle. Using the University mascots, Mr. and Ms. Wuf, we encouraged the NC State community to band together while remaining socially distant. The Pack takes care of each other—and we set out to watch each other's backs. The campaign began as "Mask up or Pack up" and evolved into "Mask The Pack Up" that was shared with the entire NC State community through print and digital platforms. Campus screens, printed stickers, digital and printed posters/flyers and large format prints were displayed across campus. Once the vaccine became available to our Student Health provider, we retained the artwork for our official "I got vaccinated" sticker.
THE TEAM:
Justin Hammond, Marketing Director
Kasey Kyprianou, Creative Director
Ross Joyner, Photographer
Patrick Smith/Social Media Manager
Sarah Colby/Graphic Designer
Pack Essentials | NC State Food and Housing Insecurity Initiative| March 2018
Project Managers: Justin Hammond: Academic and Student Affairs, Mary Cole Pike: Issues Management Lead, University Communications, Sarah Wright: TRiO Program
Research: Dr. Mary E Haskett, Department of Psychology Creative Direction: Kasey Kyprianou, Academic and Student Affairs

A recent study of NC State students showed that 14% of our students were food insecure in the past 30 days and 9.6% had experienced homelessness in the past year. Now that the results are in, we are dedicated to improving those statistics. A team of NC State researchers, staff and students came together in 2017 to explore what food and housing security issues might be impacting NC State students. Through the Pack Essentials webpage, existing programs, and exploring ideas through a new advisory group on campus, we will work to end food and housing insecurity at NC State. This piece was created to visual display the findings of our research. It was later rolled into a larger initiative, Pack Essentials, a centralized resource created by the Division of Academic and Student Affairs for students, faculty and staff to connect directly with the NC State entity that provides assistance for basic needs in the areas of food and housing, financial, education, as well as legal, health and professional resources.
We believe no NC State student should have to prioritize their basic needs over their education. For this campaign, I was integral to conceptualizing the idea of "you don't have to choose" and helped facilitate the creative direction of situations students face when they are struggling to make ends meet.
In 2020, we updated the materials to bring a larger audience into the initiative. We wanted students to know the direct impact they were making when they gave to the Student Success Fund or donated unused meals. This refresh gave new shelf life to our expanding initiative.
Project Managers: Justin Hammond: Academic and Student Affairs, John Starbuck: University Housing, Marketing Manager, Creative Direction: Kasey Kyprianou, Academic and Student Affairs, Social Media Management (2019): Alexander Freedman, Academic and Student Affairs
In 2016, University Housing at NC State was changing. A live-on requirement was about to be implemented and University Housing needed a positive image of student life while living in campus apartments and residence halls. The Wolf Den Design Challenge was a room decor contest held on social media with two goals–engage students with the department and gather stories and visuals on why students loved living on campus.
I was responsible for developing the contest in it's first year and branding the event with the help of my student intern team. From start to finish, our team of 3 developed this campaign.
Spanning multiple years, the Wolf Den Design Challenge has become a campus tradition of sorts. It's featured in the Technician, the University's newspaper and has provided invaluable creative content and connection to students for the department.
Additional design sampling
From animations to annual reports, I designed various pieces over my time at NC State.